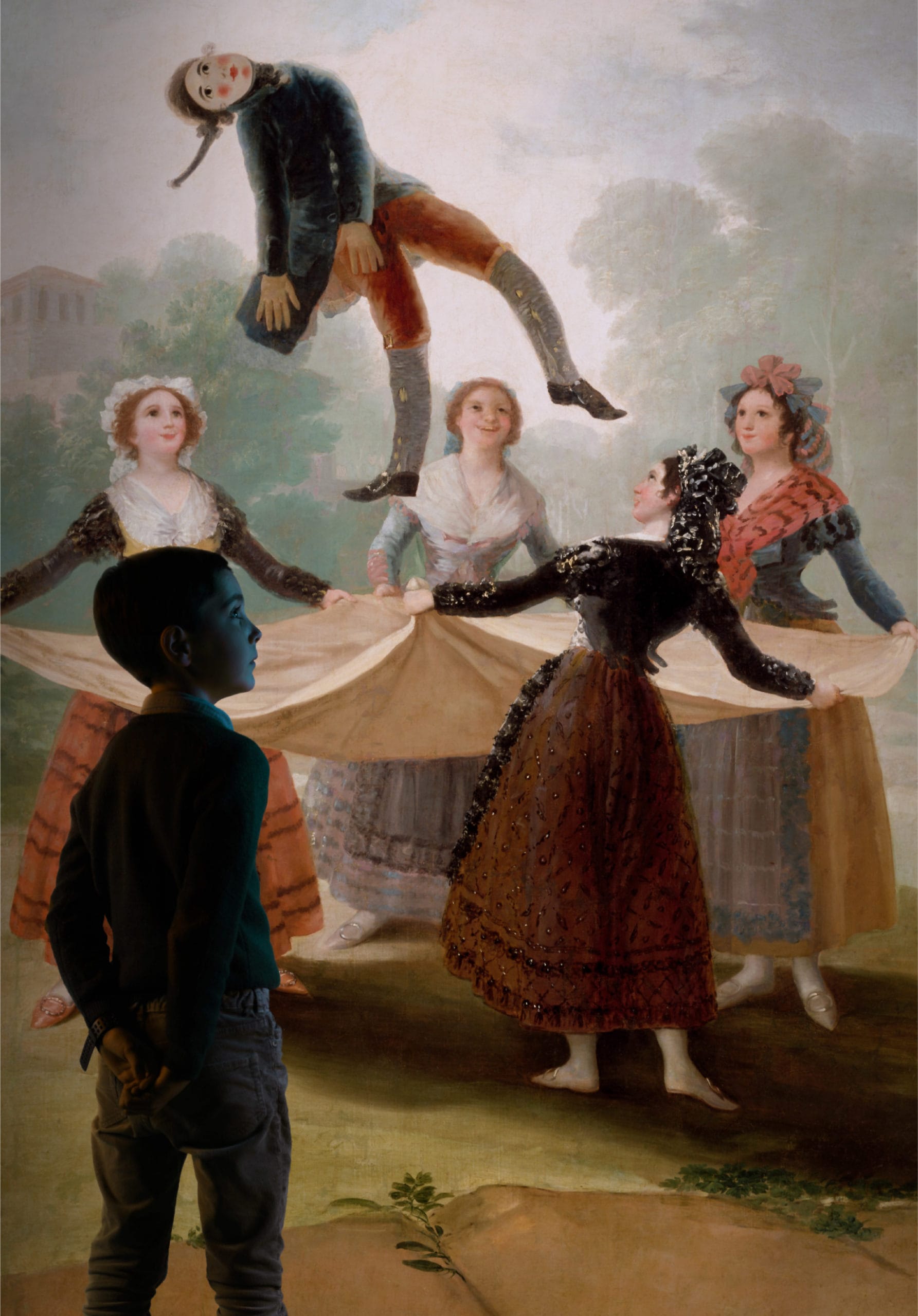 What are the exhibition's opening hours?
Opening hours are Monday to Sunday from 11am to 9pm (last entrance will be at 8pm).
Visits will take place every hour with a limited number of visitors to enhance the experience and to be able to comply with the health measures that are in effect.
Where can I purchase tickets?
Is #INGOYA appropriate for all ages?
The exhibition is appropriate for all ages. However, there are parts in the projection of Goya's work that include harsh images that could be unsettling for some audiences.
I already have my ticket but I can't come the day I reserved, what can I do?
If you cannot make it to the visit you have reserved because of Covid-19 restrictions, you have option of changing your tickets.
If you have any doubt about the exchange policy or if you need help in modifying your tickets, please visit this page.
Is it possible to buy a ticket without setting a specific date and time to see the exhibit?
It is not possible because the tickets are purchased for specific time slots. This is the way we can guarantee the reduced number of visitors and that you can enjoy the exhibit as it should be seen, without crowds.
How can I find out what other people who have already seen #INGOYA think about what I am going to see there?
You can find out the opinions of the visitors on our website and using the hashtag #INGOYA in social networks.
Do you give guided tours?
We do not give guided tours. You can enjoy #INGOYA at your own pace, spending however much time you like.
Are there real paintings or etchings by Goya in #INGOYA?
There are no real paintings or etchings by Goya. But the high quality of our projections allows us to appreciate Goya's painting with a closeness impossible to achieve in a museum.
Yes, we have provided seats in the exhibit so you can sit if you should like.
In what languages is #INGOYA available?
The texts in the Didactic Room are in Spanish, English. The projection in the Emotional Room does not have text, so you can enjoy it regardless of the language you speak.
I am coming in a wheelchair; will I be able to have the full experience?
Yes, the exhibit is adapted so that everyone can experience it.
I am coming with a stroller; will I be able to take it in?
Yes, you can enter with a stroller, taking care that it does not bother the other visitors.
Can I bring food or drink into the facility?
It's not permitted food in the exhibition. This is the way we can assure that the space is always clean for all the visitors.
How long does #INGOYA last from the time you enter until you leave?
One hour approximately between time you will enjoy our didactic room, emotional room and shop.
Can I take photos or videos?
Yes, you can take photos and videos. You can post your pictures and videos in social media channels with our hashtag #INGOYA.
No, for security reasons you should be careful to not touch the screens.
Our group has 10 or more people, is there any kind of discount in admission?
Yes, there are special deals for parties of 10 or more. You can see more here.
I am a journalist, what do I need to do to get accredited?
Where can I access the press kit and images?
You can find all the press material in our Press section.
How can I contact the organisation for an interview?
Write to us at prensa@ingoya.com and the communications team will handle your request.
I have a question that is not addressed above, to whom can I write?
We are happy to answer any questions that we have not covered in this section at info@ingoya.com.